For some Fresno State students, Spring Break "fun" this week entails gardening, crafts with kids and other community service projects at El Dorado and Quigley Parks in Fresno, and the Ronald McDonald House in Madera.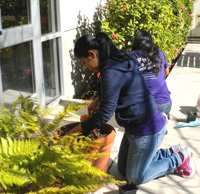 Approximately 35 students are volunteering four days of their Spring Break vacations with the Fresno State Alternative Spring Break Program 2013 through the University Student Union, the Jan and Bud Richter Center for Community Engagement and Service-Learning and Friends for Civic Engagement, a project coordinated by the Richter Center that provides funding for community service projects:
Ronald McDonald House Project
Led by senior Public Health majors, Marina Aguilera and Elizabeth Lopez, the Ronald McDonald team is working 9:30 a.m. – 3 p.m. today and Tuesday preparing meals and sponsoring several other family oriented activities. On Wednesday, the students work 4-8 p.m. and will end with a movie night.
El Dorado Park Project
The El Dorado Park team begins today and will work 11:30 a.m. – 5 p.m. each day with children and families from the park area and the nearby Boys & Girls Club. That project concludes Thursday with a carnival at the park located at Barstow Avenue and Fourth Street (west of Fresno State's Bulldog Stadium).
Students, led by Denise Altounian, a junior majoring in Political Science, and Gustavo Vela, a sophomore Social Work major, will coordinate painting and renovation projects as well as activities with area youth.
Quigley Park Project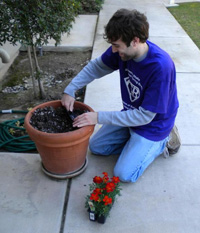 The Quigley Park project at Fruit and Dakota Avenues in central Fresno is led by Elizabeth Olenchalk, a sophomore majoring in Liberal Studies, and Elizabeth Vang, a junior Business Management major.
This team will work 1-5 p.m. today through –Thursday with children and families from the area to improve the overall appearance of Quigley Park through various paint and renovation projects. The team will sponsor activities to engage local youth as well.
At the conclusion of each day of service, the teams will participate in reflection activities, discussing the impact of the students' service on the recipients, the service agencies and the students themselves; underlying issues and root causes affecting the community; the overall Alternative Spring Break experience, including suggestions for improvements; and the role service can play in the students' futures.
For more information, contact Shawna Blair, program and events coordinator for Fresno State's Student Involvement Center, at shblair@csufresno.edu or 559.278.2741.
Related links: