The university's top academic honors were awarded to German Marquez Alcala (B.S. Agricultural Business) and Dalia Haitayan (M.A. History) at Fresno State's 103rd Commencement today at the Save Mart Center.
Alcala, of Tulelake, was selected as President's Medalist, the university's top academic honor for an undergraduate student. He came to the United States from Mexico as a young child whose parents were seeking a better future. Now a President's Scholar in the Smittcamp Family Honors College, he earned a 3.96 GPA.
Haitayan, of Clovis, was selected as the University Graduate Medalist, the university's top academic honor for a graduate student. She earned a 4.0 GPA while working on her thesis exploring the rise of evangelical conservatism in Fresno and how Protestant churches re-evaluated their role in the midst of urbanization during the 1960s and 1970s.
"It's a pleasure to recognize these two distinguished medalists as an example of student success at Fresno State," said University President Joseph I. Castro. "Overseeing my first Commencement as Fresno State's president, it has been amazing to see how many of our students have done such outstanding work in the classroom and in the community. I have no doubt that both German and Dalia will continue to accomplish tremendous things."
German Marquez Alcala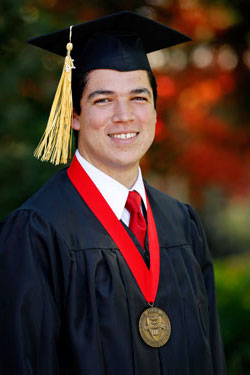 Alcala, representing Fresno State's Jordan College of Agricultural Sciences and Technology, has engaged in research in both agricultural business and philosophy through the Produce Marketing Association and the College of Arts and Humanities Honors Program.
He held numerous leadership roles, including president of the Council of President's Scholars and student ambassador for the Jan and Bud Richter Center for Community Engagement and Service-Learning. His awards include national recognition for community service through the Newman Civic Fellows Award from Campus Compact and the gold-level U.S. President's Volunteer Service Award for completing more than 500 hours of service.
Highlights of his community service include organizing an annual carnival for patients and their families at Children's Hospital Central California and helping build a playground at El Dorado Park through the Revitalize Fresno State campaign.
Alcala will pursue a Ph.D. in agricultural economics at Purdue University as a Purdue Doctoral Fellow. He plans to research international agricultural trade models and policy with an emphasis on Latin American countries.
Dalia Haitayan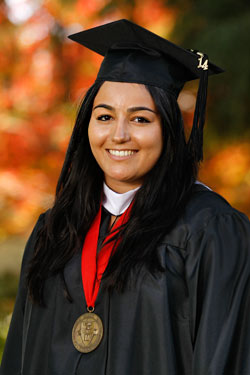 Haitayan, representing the Fresno State's College of Social Sciences, has presented four research papers at regional and national conferences. She earned President's List and Dean's List distinctions as an undergrad and was inducted into the Phi Alpha Theta History Honor Society in 2012.
She is the recipient of the Robert and Norma Craig Graduate Fellowship, Bertha and John Garabedian Scholarship and the Yervant, Rose and Hovannes Levonian Educational Grant.
Outside the Department of History, she served as a writing tutor in the Learning Center, an intern in Henry Madden Library Special Collections and a volunteer archivist at the Fresno Historical Society.
Haitayan is currently helping to organize the 2015 Southern Association for Women Historians Conference. She has been accepted to a Ph.D. program in history at Boston University.
For more information, please contact Tom Uribes, University Communications, at 559.246.1717 or tomu@csufresno.edu.
Related Links: