A two-minute video, "It's On Us," featuring Fresno State students in a campaign to raise awareness about sexual assault issues will premiere at noon Friday, Feb. 27 in the University Student Union, rooms 312-314.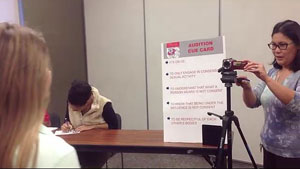 An abbreviated version of the video will be shown before the Fresno State women's basketball game at the Save Mart Center tonight (Feb. 25) and the men's game Saturday, Feb. 28. Both games start at 7 p.m.
More than 40 students auditioned in December for the project organized by the Fresno State Women's Resource Center and the Student Involvement Office. Filming by Agape, a Fresno video production company, was completed in January.
"The final video features 18 students who were chosen to highlight the diversity of our campus," said Gerry Panelo Elizondo, assistant director of student involvement.
They will be joined at the premiere by Dr. Frank Lamas, vice president for Student Affairs, who will deliver opening remarks.
The project is part of a national campaign with students across the country producing videos to raise awareness in the way students think, talk and act regarding sexual assault, Panelo Elizondo said.
"Sexual assault on college campuses is a serious health and safety problem," she added. "Each of us has a role in creating a caring community based on civility and respect that contributes to student success and is free of sexual assault."
Friday's premiere comes as all Fresno State students near a March 20 deadline to comply with new federal regulations requiring institutions to provide primary prevention and awareness programs for all incoming students and new employees.
Fresno State selected  the Haven Understanding Sexual Assault training and has committed to have all 23,000-plus students participate in the interactive, online program designed to inform them about the issues of sexual violence that impact society at-large and college students across the country.
The local campaign also includes a pledge students can take online as a personal commitment to help keep women and men safe from sexual assault and to not be a bystander to the problem but be a part of the solution.
For more information about the video premiere, contact Panelo Elizondo at 559.278.2741 or the Women's Resource Center at 559.278.4435.
Related links: