Nine of Fresno State's top graduating seniors have been named Undergraduate Deans' Medalists for the class of 2015.
The medalists are chose as the outstanding students in each of the University's eight schools and college of academic discipline and the Division of Student Affairs. The dean of each college and school selects an undergraduate medalist and a graduate medalist based on academic excellence, community involvement and other achievements.
One of the medalists will be named the President's Medalist, the University's top academic honor, at the 104thCommencement ceremony at 9:30 a.m. Saturday, May 16 at the Save Mart Center.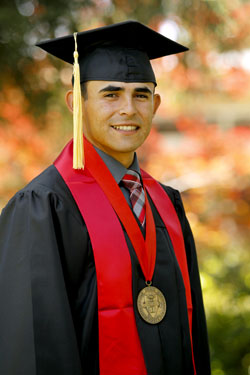 Armando Guzman, Jordan College of Agricultural Sciences and Technology, of Tulare, completed a B.S. in Plant Science, Plant Health Option, with a 3.95 GPA. One of six boys born to Mexican immigrants, he graduated as salutatorian from Tulare Western High School. While at Fresno State, Guzman engaged in a variety of research projects and assisted other students with additional studies related to weed science. He co-authored a presentation accepted to the 2015 annual meeting of the Weed Science Society of America, presented in Lexington, Kentucky. In November 2014 he was one of 21 students nationwide selected as a Golden Opportunity Scholar to attend the annual American Society of Agronomy, Crop Science Society of America, and Soil Science Society of America Conference in Long Beach, where he competed in the President's Trophy Speech. He was invited to the National Society of Collegiate Scholars in 2011. His immediate goal is to become a licensed pest control adviser and certified crop adviser. He is considering pursuing a master's degree in Plant Science at Fresno State after gaining experience in the industry.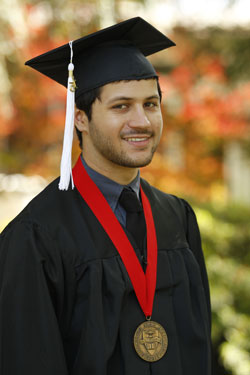 Joseph M. Bohigian, College of Arts and Humanities, of Clovis, completed a B.A. in Music Composition with a 4.0 GPA. An exceptionally talented young composer, he has been playing music since age 5. He is a Smittcamp Family Honors Scholar and a member of the College of Arts and Humanities Honors Program; he has received numerous academic and music scholarships. In addition to his impressive list of accomplishments throughout his undergraduate career, he is president of the Fresno State Composers' Guild and founder and president of the New Music Ensemble at Fresno State. His original compositions have been performed in international venues in Armenia, Germany, Portugal and Brazil, in addition to venues across the U.S. Of particular note, he curated and performed in a concert for the Composer's Voice Concert Series in New York City in 2014. He also composed a work to commemorate the 100th anniversary of the Armenian Genocide which was performed in Fresno and Los Angeles. After graduation, he plans to pursue graduate studies in music composition at Stony Brook University in New York, where he has been awarded a Graduate Council Fellowship.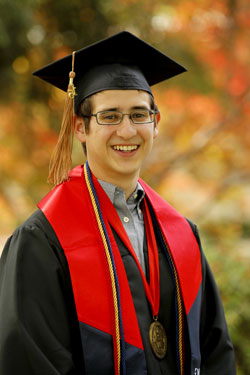 Renan Rocha Lopes de Lima, Craig School of Business,
of Tulare, completed a B.S. in Business Administration, Finance Option, with a 4.0 GPA. Emigrating from Brazil to the United States when he was 8 years old, he is a Smittcamp Family Honors Scholar. He has held leadership positions with the Collegiate Entrepreneurs' Organization and helped organize projects including Startup Weekend, a three-day event where entrepreneurs and aspiring entrepreneurs discover whether startup ideas are viable. He participated in the Entrepreneurship Mentor Program, an extensive program that matches community leaders with students. A member of the student chapter of the Financial Management Association, he has been able to represent the organization at multiple finance conferences throughout the country. He also has been vice president of the Student Managed Investment Fund, helping with the investment performance of the nearly $3 million fund. He honed his finance skills through two internships, one with Regency Investment Advisors and a second with Rabobank. After graduation, he will begin his career as an associate financial analyst for E&J Gallo and has future plans for graduate studies.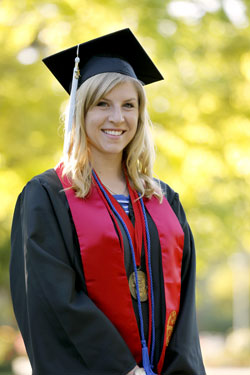 Elizabeth Olenchalk, Kremen School of Education and Human Development, of Sonora, completed a B.A. in Liberal Studies with a 3.58 GPA. Her concentration is in Science, Technology, Engineering and Mathematics (STEM) with an Urban Civic Education minor, which prepares students to become change agents that seek to address community issues, and a minor in Co-Curricular Leadership. At Fresno State, she was a passionate, committed leader of community service and engagement efforts, from leading Fresno State Alternative Spring Break 2012 to serving as the student director of Vintage Days 2015. In 2014, she received national recognition by being honored with the Newman Civic Fellows Award from Campus Compact. Her activities include serving as a leader for Every Neighborhood Partnership Powers-Ginsburg Saturday Sports, as a Richter Center Ambassador and as a member of Fresno State Physics Outreach Program. She works for Clovis Unified School District's Campus Club, where she received a Clovis Unified School District 2014 Most Valuable Player award for community outreach efforts. She also was awarded the John D. Welty Excellence in Community Service Scholarship. She plans to enter Fresno State's multiple subject credential program and continue serving others through teaching elementary school.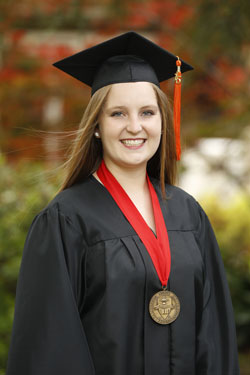 Kelsey Hoffman, Lyles College of Engineering, of Fresno, completed a B.S. in Civil Engineering with a 3.78 GPA. A member of the Lyles College of Engineering's Honors Program, she exhibits academic excellence, leadership and service. Hoffman has been a model student throughout her four years at Fresno State. One of her accomplishments was leading the planning and implementation team that hosted the American Society of Civil Engineers Mid-Pacific Civil Engineering competitions in 2014, which attracted more than 1,000 guests. Her awards include the Outstanding Civil Engineering Student of the Year. She also has volunteered with several organizations, including Fresno Community Food Bank, Campus Life Leadership, Youth for Christ, the Mathematics Engineering Science Achievement (MESA) Schools Program, and a dance marathon fund raiser. She worked as an engineering intern at Chevron in Bakersfield and at the Kiewit Treatment Plant in San Bruno. She will join Chevron as a full-time engineer soon after graduation and plans on pursuing a graduate degree and possibly starting her own engineering company. After graduation, she plans to pursue an MBA.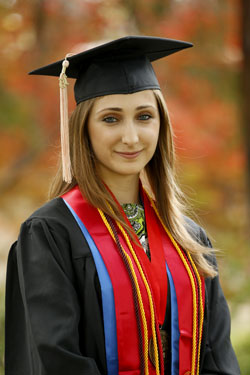 Marine Vardanyan, College of Health and Human Services, of Fresno, completed a B.S. in Health Science, Community Health Option, with a 3.97 GPA. Born in post-Soviet Armenia, she encountered numerous obstacles in adapting to life in the United States, but used those obstacles as opportunities for growth. She was selected for the College of Health and Human Services' Honors Scholars Program in Collaborative Leadership in 2014. She served as editor and writer for Armenian student newspaper Hye Sharzhoom, which sparked her decision to minor in Mass Communication and Journalism. She was heavily involved with USU Productions as a coordinator and helped organize "Just Roll With It: An Evening with the Walk and Roll Foundation," an organization dedicated to raising awareness of spinal cord injuries. She also regularly volunteers her time to host the KFSR radio show, Hye Oozh. In addition, she completed an internship in Armenia at Civil Net News Agency as a writer, translator and researcher. She volunteered more than 300 hours at Community Regional Medical Center in the Neonatal Intensive Care Unit, the Burn Unit and others. Her goal is to attend graduate school and study epidemiology or occupational therapy.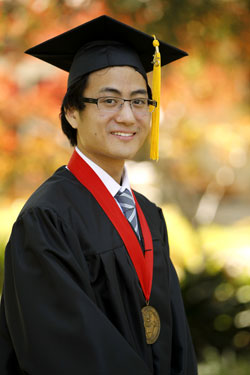 Jamie Chang, College of Science and Mathematics, of Fresno, completed a B.S. in Biology, with a 4.0 GPA. He has a double-minor in Chemistry and Mathematics. Raised by parents who emigrated from Taiwan, he became interested in his field because his best friend in high school suffered from a genetically-based congenital lung condition. A hard-working, self-motivated individual who is dedicated to biology, math and clinical research projects, he is noted for his leadership role in the lab, assisting other students with their activities and projects. He has presented the results of his research twice at the Central California Research Symposium and at the CSU Program for Education and Research in Biotechnology. He serves as an academic research associate at Community Regional Medical Center, where he is assisting in a toxicology study regarding treatment regimens of Tylenol overdose. He volunteered with the Overseas Chinese Affairs Council as an English teacher, the STARTER Program at the Discovery Center in downtown Fresno and the Mathematics, Engineering, Science Achievement program. In addition, he was a four-year member of the Society for Industrial and Applied Mathematics. He plans to attend medical school to specialize in the field of neurosurgery.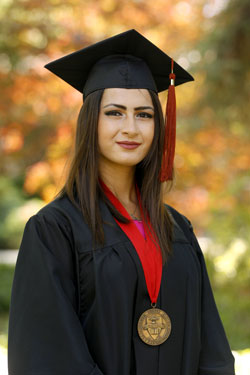 Megi Hakobjanyan, College of Social Sciences, of Fresno, completed a B.A. in Political Science, with a 4.0 GPA. Born and raised in Armenia, she immigrated to the United States in 2007. She is a member of the Smittcamp Family Honors College and the College of Social Sciences Honors Program. With support from grants and scholarships, she attended the European Student Conference at Yale, spent a semester at the Charles University in Prague and served as an intern at the Armenian Embassy of the Czech Republic, among other activities. She is working with Dr. Bradley Hart to translate the Mitrochin Archives from Russian to English. Her volunteer work includes passing out food at the Bulldog Pantry and participating in Relay for Life and March for Babies, as well as the Greek Festival. Hakobjanyan credits her many campus involvements with her work since 2012 at the University Student Union reservations desk, where her supervisors encouraged her to be active both on and off campus. Her internship was with the American Civil Liberties Union. This fall, she will attend Johns Hopkins University, where she will pursue a Master of Arts in International Affairs.