Each of Fresno State's eight schools and colleges, along with the Division of Student Affairs, have selected an outstanding graduate student to honor as its Dean's Graduate Medalist for the class of 2015.
Each dean selects an undergraduate medalist and a graduate medalist based on academic excellence, community involvement and other achievements. One medalist will be announced as the University Graduate Medal winner at the 104th Commencement at 9:30 a.m. Saturday, May 16 at the Save Mart Center.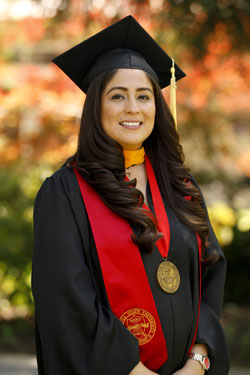 Sonia Inez Rios, Jordan College of Agricultural Sciences and Technology, of Wasco, completed an M.S. in Plant Science with a 3.79 GPA. Having struggled early in her undergraduate program due to personal situations, she persevered and has amassed an impressive list of academic, professional and volunteer accomplishments. She balanced her graduate studies while working almost full-time as a staff research associate with the University of California Cooperative Extension (UCCE). As a graduate student, she was the first author on 11 oral and eight research poster presentations and was a co-author in three peer-reviewed journal papers. Her thesis research on Palmer Amaranth was so paramount that she was interviewed on a radio program and gave talks at professional venues. She won a highly competitive international travel grant to present her work at the Weed Science Society of America's annual conference in Vancouver, Canada, and numerous other scholarships. She was selected as a United States Department of Agriculture Graduate Fellow in 2014 and was a recipient of the University of California's Milton D. And Mary M. Miller Plant Science Award, and the Bill and Jane Fischer Vegetation Management Award. She is a subtropical horticulture farm adviser with UCCE serving Southern California.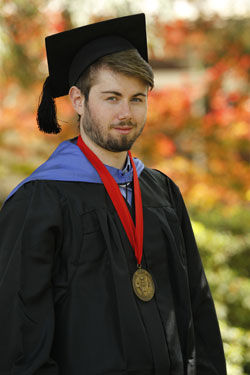 Valentin Kovtun, College of Arts and Humanities, of Clovis, completed an M.A. in Communication with a 4.0 GPA. Born in Kiev, Ukraine, he immigrated to the United States as a political refugee when he was 10 years old. Learning English as his third language, he was a high school salutatorian and graduated summa cum laude with his B.A. in Communication from Fresno State. He distinguishes himself as a communication scholar. His paper titled "A Fight for Freedom: Theoretical and Practical Strategies for Aiding Protests in the Ukraine" won the Top Paper Award at the 2014 National Communication Association meeting in Chicago. In addition to his impressive list of accomplishments, he is a National Academy of Sports Medicine certified personal trainer and is seeking certification as a professional certified coach from the International Coaching Federation. He contributes his time and talent to mentoring, coaching, consulting and training. He also serves at nonprofit organizations throughout the San Joaquin Valley. Since 2014, he has taught at Fresno City College as an adjunct professor in Communication Arts. Valentin plans to apply to graduate school for a Ph.D. in cognitive neuroscience, with further plans to continue coaching and lecturing.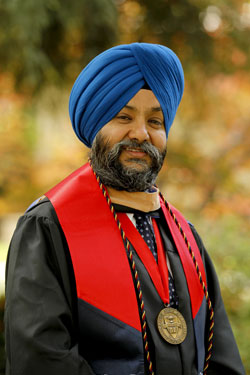 Narinder Pal Singh, Craig School of Business, of Fresno, completed the Executive M.B.A. program with a 4.0 GPA. Singh has more than 19 years' experience across the food and agriculture industries in India, Brazil, Argentina and the U.S., and currently is working with Olam Americas as vice president for engineering. He's responsible for global operations for Olam Spices and Vegetable Ingredients. He devises and implements engineering strategies, oversees large global capital budgets, energy sourcing and management and oversees a large team of directors and managers in the spices and vegetables division. He travels throughout the world to monitor plants in his division and participates in executive roundtables with international corporations. He has been serving the community by spearheading Capstone Engineering programs at UC Merced that provide training and that help young engineers in their profession. Before joining Olam, he worked with Pepsi and Joyco (Mars group of companies). His long-term career objective is to manage a large global business.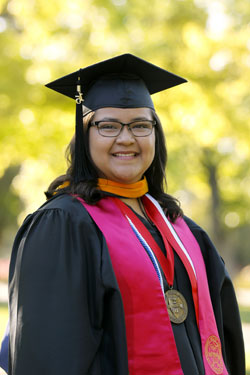 Aide Navarro, Kremen School of Education and Human Development, of Clovis, completed an M.S. in Counseling with a 4.0 GPA. A first-generation college student, she demonstrates the transformational power of a Fresno State education. As an alumnus of the College Assistance Migrant Program and the Louis Stokes Alliance for Minority Participation, she developed a passion for empowering young people to pursue higher education. During her graduate education, she was actively involved with the College Next! Boot Camp, Chi Sigma Iota mentoring program, volunteered as a career ambassador with Career Services and served as a volunteer and mentor for high school students at the Clovis Unified School District Latino Student Success Conference. She is recognized by numerous honor societies, including the Honor Society of Phi Kappa Phi, Psi Chi National Honors Society and Chi Sigma Iota, where she served as treasurer during the 2014-2015 school year. In April, she received the Outstanding Professional Counseling Student award presented by Chi Sigma Phi Chapter of Chi Sigma Iota. She plans to earn a Ph.D. in Higher Education and Student Affairs. Her ultimate goal is to become a dean of students or a vice president of student affairs at a Hispanic-Serving Institution.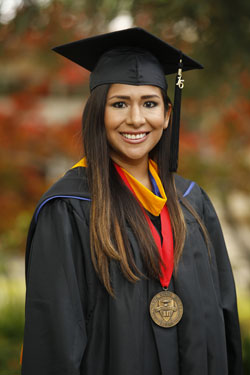 Olga Jumbo Sanchez, Lyles College of Engineering, of Guayaquil, Ecuador, earned an M.S. in Engineering, Electrical Engineering Option, with a 4.0 GPA. Born and raised in Ecuador, she is described as outstanding in her contributions to the student engineering community as well as in her dedication to mentoring and instructing incoming electrical and computer engineering freshmen and transfer students. She is a Hans and Anna Beck Scholar. Her graduate project work is in 3D sonar mapping. She held a leadership position with the Society of Women Engineers, where she served as secretary, and she was president, vice president, secretary and graduate adviser for Tau Beta Pi, an engineering honor society. She is a member of Phi Kappa Phi and Eta Kappa Nu. She also served as a senator representing the Lyles College for Associated Students, Inc. Her volunteer work includes service at Bulldog Pantry and for the Mathematics Engineering Science Achievement Schools Program. She is an active member of the Institute of Electrical and Electronics Engineers and the Society of Hispanic Professional Engineers. She has accepted a position as a research assistant in image processing at the University of Miami with a full scholarship.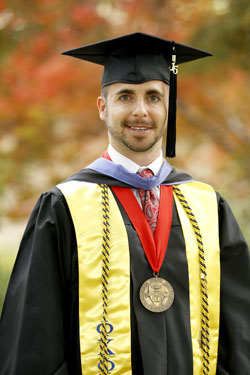 Nathan P. Lee, College of Health and Human Services, of Weatherford, Texas, completed an M.A. in Kinesiology, Sport Psychology Option, with a 4.0 GPA. As a professional equestrian, he has taken special interest in studying and further understanding the psychobiological dynamics of equestrian performance. For his master's thesis, he investigated the relationships between mindful self-compassion and pre-competition, facilitative state-anxiety among NCAA women's equestrian athletes. Because of the study's magnitude and contributions, he is submitting a manuscript for publication to the Journal of Sport Behavior. His thesis has been nominated for the College of Health and Human Services' Outstanding Thesis Award. He also received a Graduate Student Research and Creative Activities Support Award for the 2014-15 academic year. A career goal of his is to teach at the university level in the subject areas of psychobiology and the inclusion of lesbian, gay, bisexual, transgender/transsexual, and questioning athletes. He is an active member of the Sport Psychology Club at Fresno State and recently was inducted into the Honor Society of Phi Kappa Phi. He plans to complete a Ph.D. in counseling psychology.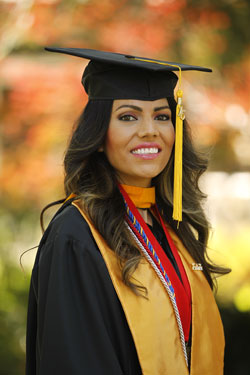 Yesenia Thompson, College of Science and Mathematics, of Lindsay, completed an M.S. in Biology with a 3.91 GPA. She and her family immigrated to the United States from Mexico, and she experienced many challenges, including growing up in a low-income, single-parent household. In completing her graduate studies, she received the Liliane D. Wells scholarship, Proteus Inc. scholarship, Susan G. Komen Travel Award and the Faculty Sponsored Student Research Award. Her lab research project in DNA polymorphisms focused on understanding the role of occupational pesticide exposure in causes or breast cancer and prostate cancer in Hispanic farmworkers. The data from her research has been presented at the American Association for Cancer Research International Conference, the National Latino Cancer Summit and the 31st, 32nd, 33rd, 34th and 35th Central California Research Symposium. She worked with the Susan G. Komen Foundation on local events to fund raise for breast cancer awareness, screening and research for underserved women. She has also organized a field trip for students to learn about medical school and research at UC Davis for the Research Infrastructure in Minority Institutions scholars program. She hopes to pursue a research career in anti-cancer drug discovery and development.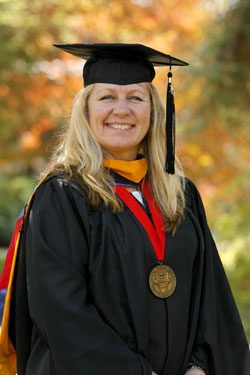 Jennifer Leahy, College of Social Sciences, of Oakhurst, completed an M.S. in Criminology with a 4.0 GPA. During her master's program, she worked with Dr. Yoshiko Takahashi to assess the effectiveness of a software program for the upper-division criminology classes for the Save our Adolescents from Prostitution project. The results of the study were presented at the American Society of Criminology conference by Leahy and Dr. Takahashi. In another project, "Women's Perceptions of Fear in Prison," she used secondary data and tested how age, race, previous incarceration and offense type would be related to the perceptions of fear and safety among female prisoners in the United States. As a research assistant, she worked on projects such as realignment in Fresno County, a programmatic review for a project examining women offenders in the Los Angeles County Jail, and various other projects. She also has assisted with projects on an international level, working with the Thailand Institute of Justice on a digital reference guide pertaining to femicide. She recently returned from the UN C