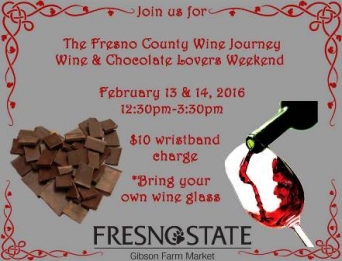 The Fresno State Rue and Gwen Gibson Farm Market will be a host site of the annual Fresno County Wine Journey's Wine and Chocolate Lover's Weekend from noon to 3:30 p.m. Feb. 13 and 14.
There will be 14 award-winning wineries and breweries participating this year in the Wine Journey. (Other events on the journey will be open noon-5 p.m.).
The cost is $10 for a wristband for ages 21 older. Wineglasses can be purchased for $5 or customers can bring their own.
Student-produced wines to be sampled at the Fresno State site are Solare, Uva Doce, Barbera and Muscat Canelli.
Dark Chocolate Wine Truffles, produced with Fresno State's Uva Doce wine, and Bulldog Bark candy will be available to sample as well.
Farm market customers not participating in the full wine journey can still sample wine at the Fresno State event at the normal rate of $3 per tasting, which can be waived with the purchase of a bottle of wine.
INFO: Gibson Farm Market at 559.278.4511 or bit.ly/FS-WineChocEvent.