(UPDATE 4/10/16 — 2:30 p.m.):  revised to reflect location change).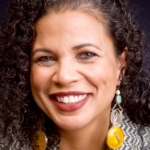 Dr. Melina Abdullah, chair of the Department of Pan-African Studies at California State University, Los Angeles, will discuss the #BlackLivesMatter movement and how it also pertains to higher education from 4 to 6 p.m. Monday, April 11, in the Grosse Industrial Tech Bldg. (Room 101).
Abdullah earned her Ph.D. in political science from the University of Southern California and her bachelor's in African-American studies from Howard University. She is recognized as an expert on race relations and serves as a member on the California State University Chancellor's Task Force for the Advancement of Ethnic Studies.
The event is sponsored by the Fresno State Afrikan/Black Coalition, African American Edge Initiative and the California Faculty Association, Fresno Chapter.
INFO: Dr. John Beynon, professor and graduate coordinator in the English Department, at jbeynon@csufresno.edu or 559.278.2240.