The work of Fresno's Varaz Samuelian and contemporary Armenian artist Henrik Abedian will be on display at ArtHop in downtown Fresno from Oct. 4 through 28 for an exhibition featuring intersecting points of views on violence from past and present perspectives.
The opening ArtHop reception is from 5 to 8 p.m. Oct. 4 at the M Street Graduate Studios (1419 M St.) in downtown Fresno. Gallery hours are from noon to 4 p.m. Friday to Sunday. Gallery viewing appointments can be made by calling 559.278.2516.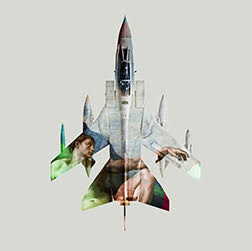 The exhibition, "The Business of Regret: Perspectives on War, Chaos and the Rejection of Violence," features the work of two artists from different time periods.
The late Samuelian, who died in 1995 at age 78, was born in Yerevan, Armenia, and moved from the Bay Area to Fresno with his wife, Ann, in 1957. He created art to express his strong views on war. The exhibition will display a selection of his lithographs on war and painting on life and peace.
Abedian, who was born in Armenia into a multi-generational family of photographers, integrates several styles of image design. He absorbed a myriad of influences and refined his attention to form, light and especially color. His images reflect a focus on the intersection of technology and media in modern life. Originally from Armenia, he has also resided in Iran and Germany and now lives in Atlanta.
"As a society, we are at a crossroads or juncture, if you will, on how we choose to address violence and war in particular," said Dr. Cindy Urrutia, director of the Center for Creativity and the Arts. "On a global scale, we are witnessing the impact that war is having on the world. Families and societies are being torn apart. As citizens of the world, it is important to not only be aware of the impact of war but to have conversations on it so that we can strive for a more just world. War is not some imaginary place. It is real."
A discussion with panelists Abedian, Urrutia and Barlow Der Mugrdechian, Fresno State Armenian Studies Program coordinator, will be held at the Alice Peters Auditorium in the University Business Center at Fresno State from 5:30 to 6:30 p.m. on Oct. 3.
"The exhibit is important to Fresno State because it brings the perspectives of two artists to the question of violence and how we address it," Der Mugrdechian said. "Their works stress the rejection of violence, and, because they are from two different generations, they each bring their unique view to the question. They have different experiences, but their art brings them to similar conclusions. That they are both Armenian is also interesting, as Armenians have faced genocide and war in the 20th century from a unique vantage point."
The exhibition is a collaboration between Fresno State's Center for Creativity and the Arts, the Department of Art and Design, the Armenian Studies Program and the M Street Graduate Studios, and is also sponsored by the Connect Contemporary Fine Art Gallery.