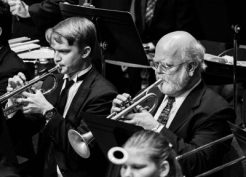 Trumpeter Patrick Jensen first participated in FOOSA — Fresno Summer Orchestra Academy at Fresno State — the summer after his sophomore year at Roosevelt School of the Performing Arts. It was 2013, the first year of the festival.
Next week Jensen will take part for his fourth time, before starting his senior year at Fresno State as a trumpet performance major.
The Fresno Summer Orchestra Academy, a project of Youth Orchestras of Fresno and Fresno State's Department of Music, is holding its two-week intensive program from June 9 through 23 on the Fresno State campus.
(FOOSA originally stood for Fresno Opera and Orchestra Summer Academy, but the operatic component was dropped after the first year.)
"The idea behind FOOSA was to build an international music festival here in Fresno," said Dr. Thomas Loewenheim, FOOSA's artistic director and a Fresno State music professor. "In order to truly become a great musician, you need to be inspired by your peers, by your teachers and by the quality of the program overall. The goal is for me to build the best program I can."
Leaving Fresno to attend an orchestral music academy somewhere else is something many Fresno music students can't afford. So Loewenheim and executive director Julia Copeland have brought the best to the Valley.
Students this year will come to the Fresno State campus from Germany, China, France, Korea and Taiwan to study music side by side with Valley students, including Jensen.
"The motto of the festival is to bring the world to Fresno, and then Fresno to the world," Loewenheim said. "That's why we go to Los Angeles and perform in Disney Hall. That is part of the experience, playing on one of the top acoustic stages in the world."
This year's FOOSA orchestra will present its culminating concert, "Triumph of the Human Spirit," at 8 p.m. Friday, June 21, at Walt Disney Concert Hall in Los Angeles. Free tickets can be reserved online.
"It's amazing," said Jensen about performing on the Disney Hall stage in front of more than 2,000 family, friends and orchestral music fans. "You work for two weeks perfecting this really intense program, and then you go to the Walt Disney Concert Hall and everything just comes alive there. It's such a great hall to perform in. The overall ambiance and acoustics, it melds everything together into one great sound."
The students and faculty will also present "Triumph of the Human Spirit" for local audiences at 7 p.m. Sunday, June 23, at People's Church. This performance is free and open to the public. There are several other Student Showcases throughout the two-week festival, all free and open to the public at the Fresno State Concert Hall.
A key factor in FOOSA's success is the top-notch music faculty that come from near and far to work with students who attend. When he returned to FOOSA in 2015 and 2016, Jensen had the opportunity to take lessons from Ed Cord, professor of trumpet at Indiana University's Jacobs School of Music (Loewenheim received his doctorate in cello performance at Indiana).
"Being able to study with him for those two years was such a huge privilege," Jensen said. "I can credit my own personal ability from his teaching."
Jensen is looking forward to studying with this year's new trumpet faculty member, Wiff Rudd from Baylor University in Waco, Texas.
"Baylor has one of the best trumpet programs in the country," Jensen said. "Starting next week, I'll be working with a really great teacher and I'm hoping to learn a lot from him."
The full-day philharmonic program, which is the program Jensen will be doing for his fourth time, is designed for college and advanced high school musicians. Loewenheim said he received a record number of applicants this year — 180 applicants for 100 spaces.
There is also a half-day program for elementary through high-school students who play violin, viola, cello or double bass. Loewenheim said there are still a few more spaces in the half-day program.
FOOSA couldn't survive without support from the community, Loewenheim added. The Office of the President at Fresno State provided $50,000 to support this year's academy. Other major supporters include Granville Homes, the Bonner Family Foundation and the California Arts Council. The National Endowment for the Arts awarded a $10,000 grant to Youth Orchestras of Fresno to support FOOSA.
"This festival gets world attention," Jensen said. "We're getting students and world-class faculty from the entire world. FOOSA gives us such a great opportunity to expand our musical knowledge in such a local, friendly environment.
Since it began seven years ago, FOOSA has provided an exceptional music festival experience for nearly 1,000 students, bringing professional musicians from around the world to teach side by side with Fresno State's own highly esteemed faculty members.
"Every student that comes has a special story," Loewenheim said. "The FOOSA stories, it really ties in the world. The students who come here go and do amazing things all over the world. And all of these people have a fond memory of Fresno. For them, Fresno is this incredible music festival."