Students passing through Fresno State's Maple Mall on a recent cool October morning heard an unusual sound — a bell chiming as names of lost U.S. Navy submarines were read out loud, along with the date their service ended and the number of lives lost or survivors from that vessel.
The Maple Mall is the site of Fresno State's Submarine Veterans Memorial, honoring 52 U.S. submarines and 3,505 men who were lost in World War II and two other submarines and 228 men lost since 1945.
A "Tolling of the Boats" was performed for each of the lost submarines, commemorating the lives on eternal patrol. A final toll of the bell honored all current Navy submarine sailors.
The ceremony honoring lost submarines took place after about three dozen community volunteers gathered on Fresno State's Maple Mall to plant 48 trees on Friday, Oct. 11, at the submariner memorial. The oldest and youngest qualified submariner participant led a traditional cake-cutting after the festivities.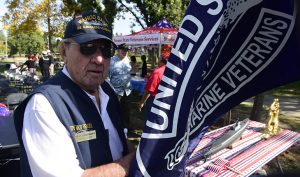 Jim Van Vranken, who served on Navy submarines from 1958 to 1966, attended the ceremony, along with several other members of the local U.S. Submarine Veterans Inc. Wahoo Base.
"It's an honor to us that Fresno State has this memorial on campus, especially given its size," Van Vranken said. "The 'Tolling of the Boats' has always been special to me because in many cases, all hands were lost when the boat went down."
This event was especially meaningful to the Wahoo members who came out —  the Wahoo Base group, established in 2001, will be disbanding at the end of this year due to dwindling membership in recent years.
"Staying in touch with other submarine sailors is like you staying in touch with relatives except when we get together we are with people that we depended on to protect our lives," Van Vranken said. "If a single sailor did not do his job on the boat he could sink us all. And every other guy had to depend on me."
Fresno State Student Veterans Organization organized the submarine ceremony to coincide with the tree planting on the Maple Mall.
"To hold the ceremony alongside the tree planting was almost as if fate had a hand in it," said Stewart W. Gonzalez, president of the Student Veterans Organization and a senior majoring in biology. "We weren't aware that the Wahoo Base was shutting down, and it just so happened to be the year Tree Fresno was replacing some of the trees. I am glad we were able to hold this ceremony, which is the last for the Wahoo base. It was an honor to do it for them."
The event was part of a broader planting of 331 trees across campus this semester in a beautification effort involving students and members of the surrounding community.
The tree planting events are a community collaboration between Fresno State, the Jan and Bud Richter Center for Community Engagement and Service-Learning, Tree Fresno and volunteers. The project is funded by a Cal Fire Grant that Tree Fresno received in 2017.
Trees are being planted in six different locations around campus — the Maple Mall; along Shaw Avenue; near the Kremen Education Building; at O'Neil Park; and on the west side of the Engineering Department.
"Connecting the memory of a special person to a tree, which can live for generations, is one of the most powerful ways to celebrate life. It is a fitting tribute to those who bravely served our country," said Tree Fresno CEO Mona Cummings. "This falls right in line with Tree Fresno's mission of transforming the San Joaquin Valley with trees, greenways and beautiful landscapes."
A Sept. 28 gathering planted trees near the Conley Art Gallery. Several different species are part of the tree planting: 14 red maples, 42 deodar cedars, 138 stone pines, 55 Chinese elms, 19 cork oaks, 56 scarlet oaks and seven Valley oaks.
When it was established in 2002, Fresno State's Submarine Veterans Memorial was the first such memorial honoring lost submarines and crew members to be located on a university campus. Seventeen years later, it retains the distinction of being the only known such memorial on a university campus west of the U.S. Naval Academy in Annapolis, Maryland.
More information about the memorial can be found here. Some of the trees planted on Oct. 11 replaced previously planted trees that weren't doing well.
Sara Cerkueira of Tree Fresno said volunteers can still help with the Fresno State tree plantings, from 9 to 11:30 a.m. Nov. 16 at Campus Pointe, behind the Palazzo Apartments. To volunteer, contact Cerkueira at sara@treefresno.org.