Approximately 6,400 Fresno State students will be graduating, celebrating for now with virtual grad week
When the spring semester took a rapid, unexpected turn in the middle of March as the campus accelerated social distancing, one team was key in helping students successfully transition from in-person classes to virtual instruction.
To ensure that students still had access to technology and internet access when they would no longer be on campus, the DISCOVERe Hub distributed more than 3,000 iPads and more than 1,500 mobile hotspots to students.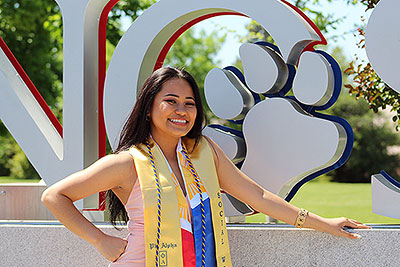 Romylyn Teale, who has been a student assistant with the DISCOVERe team for five years, is part of the 2020 graduating class, earning a master's degree in social work.
"When I found out that we were able to deploy devices to students, it made me happy because I understood how important it is," said Teale, who came to the United States from the Philippines when she was 12, graduating from Sierra Pacific High School in Hanford. "It made me proud to be a part of the DISCOVERe Hub team."
Mike Pronovost, director of DISCOVERe, praised Teale's contribution to Fresno State's transition to all virtual instruction.
"Romylyn has done an amazing job of helping her peers transition to online teaching," Pronovost said. "When the news about COVID-19 hit, Romylyn played a large role in deploying iPads, hotspots and other necessary equipment to not only DISCOVERe students, but to all students, staff and faculty who were in need of a device or hotspot so they could work remotely. She has conducted numerous training and one-on-one help sessions to show students how to use online resources such as Zoom and Canvas so they could participate in their coursework."
Student assistants, including Teale, continue to provide remote support daily from 10 a.m. to 5 p.m. as a most unusual semester wraps up.
"At first, we were only deploying tablets to students enrolled in DISCOVERe courses," Teale said. "Fortunately, President Castro was able to resolve this issue by allowing other students who needed them to receive a tablet, as well as hotspots from us. This was huge, especially to those students who did not have a device to use at home or a stable Wi-Fi connection that they can use to do school work."
Established by President Joseph I. Castro in 2014 to activate new ways to teach and engage students, the DISCOVERe program was created to pair technology with specially designed courses that don't require traditional textbooks. DISCOVERe has grown from 1,000 students in the program in 2015 to more than 18,000 today, Pronovost said.
Graduation season
Graduating students were disappointed when a decision was announced on April 2 that commencement ceremonies would be postponed until it is safe to hold them.
"As the first to graduate with a master's degree in my family, commencement was really something my family and I were looking forward to," Teale said. "I do, however, understand why holding commencement at this time is not possible. When it is safe to do so, my family and I will for sure be there and celebrate with everyone."
About 6,463 Fresno State students could be eligible for degree conferral by Castro, pending the customary final certification of spring 2020 degrees.
"Each of our graduates has worked hard to reach this important milestone in their life, not just in the past few months, but over the years," Castro said. "By making sacrifices along the way — whether it was preparing for exams while juggling a job or writing a term paper while taking care of a child, sibling, friend or parent — Fresno State graduates are well deserving of the academic degree they have earned, and are well prepared to lead in their community, our region and beyond."
Grad Week activities and future in-person ceremony
While an in-person celebration of commencement will still be planned at an undetermined later date, Castro and first lady Mary Castro announced a week of virtual celebration of this year's graduates in a video released May 8. The online Grad Week will run from Monday, May 11, through Saturday, May 16, culminating in a live, virtual dance party on Saturday.
Graduates can participate on social media platforms using the hashtag #FresnoStateGrad in a variety of themed days throughout the week.
Last month Fresno State announced the students selected as Undergraduate Deans' Medalists and Graduate Deans' Medalists, representing the University's eight schools and colleges along with the Division of Student Affairs and Enrollment Management.
From those 18, two students will be selected as the University's top academic honorees, the President's Medalist and the University Graduate Medalist. Those recipients will be announced on Friday, May 15.
Faculty recognition
Earlier this month, 12 faculty members were honored with Provost's Awards, with the top award for Excellence in Teaching going to Dr. Dave Goorahoo, professor of plant science.
"This year, we saw an unprecedented number of submissions for the Provost's Awards — a testament to an engaged academic community," said Dr. Saúl Jiménez-Sandoval, provost and vice president for Academic Affairs. "The pool was diverse and rich, and their talents elevate Fresno State's world-class teaching in myriad transformative ways. We are so honored to showcase such dedicated and amazing faculty. In times like these, we look to these luminaries for inspiration, and celebrate them with our heartfelt recognition."
The Center for Faculty Excellence received a Special Award for Exemplary Service for its part in helping faculty members during the transition to virtual instruction in March.
"My sincere gratitude goes to the Center for Faculty Excellence, which has championed and supported our faculty's efforts during such challenging times," Jiménez-Sandoval said.
By the numbers
Fresno State's 2020 class consists of:
5,451

students who received a degree in summer or fall 2019 or are pending final review in spring 2020 for their baccalaureate degrees.

1,012

who received a degree in summer or fall 2019 or are pending final review in spring 2020 for their post-baccalaureate degrees.
The doctoral cohorts and candidate breakdowns are:
Summa cum laude (with highest praise) distinction for a GPA of 3.9 to 4.0 was earned by 329 students, with 69 of those earning straight A's.
In 2015, the California State University system launched Graduation Initiative 2025, an ambitious plan to increase graduation rates, eliminate equity gaps in degree completion and meet the future workforce needs of California.
Fresno State students are making positive progress toward that goal.
The four-year graduation rate for first-time freshmen who began in fall 2016 is projected to be 20.5%, which will be 2.7% higher than the cohort that started in 2015. In looking at the two-year graduation rate for undergraduate transfers who entered Fresno State in fall 2018, the result is 39.1%, which is 7.7% higher than last year.
A multi-pronged approach has helped improve the numbers at Fresno State:
More course sections have been added.
Additional faculty members have been hired.
Every college has an embedded advising center staffed by professionals who can help students successfully navigate their major.
University officials say about 59% of the graduating students in the class of 2020 are first-generation students whose parents didn't receive bachelor's degrees, while many others continue a proud family legacy of being a second- or third-generation Bulldog.
By sheer numbers of the 2020 graduating class, the College of Health and Human Services has the largest representation with 1,108 students, followed by College of Science and Mathematics (944) and Craig School of Business (921). The following areas are the top five majors of students in the 2020 graduating class:
Liberal studies

(503)

.
Psychology

(482)

.
Criminology

(478)

Kinesiology

(277)

.
Management

(231)

.
Graduates head to frontlines
Several hundred College of Health and Human Services graduates will head directly to the frontlines of fighting the COVID-19 pandemic in nursing, public health and social work careers­­­­­­­­­­­. Among them is ­­­Andrew Kim, a 2014 nursing alumnus who will earn his doctorate degree in nursing practice this month. (A full story about Kim will be published on Monday, May 11.)
Kim found himself in a unique position in March when his doctoral project on telehealth turned from an idea to reality, as the pandemic quickly changed the way health care providers perform services for patients.
Kim, a family nurse practitioner, plans to use his research in telehealth long after graduation, as these services are projected to gain greater traction in the years to come — a result of the changing landscape brought on by the pandemic.
"For many of us in health care, COVID-19 kind of thrust us into this world of telehealth," Kim said. "Very few of us have actually lived through a pandemic of this mag