Johnny Phongsavath remembers walking the halls of the Fresno State Education Building in 2019, on the path to completing a graduate degree in school counseling. One of his courses that semester was "COUN 242: Seminar on Parent Education, Pupil Advocacy and Consulting," taught by assistant professor Dr. Dominiqua Griffin. The course, Phongsavath said, opened his eyes to the importance of working with students, parents and their community.
That is exactly what Griffin hopes for. "The course goes over formal ways to engage in consultation, specifically as a school counselor," she said. "Students also learn how to provide indirect services and partner with families or other stakeholders in the community."
Award-winning dissertation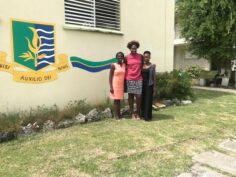 Griffin's approach to counseling was refined in Barbados while working on her dissertation and interacting with local school counselors for nearly a year. She immersed herself in the schools across the island, with research focusing on school counseling services and understanding the role of the school counselor. 
In Barbados, 97% of the people are of African descent and it was colonized by the British until the 1960s. Griffin learned that counseling needed to be decolonized and the narrative of school counselors needed to be prioritized and centered. 
"As a result of privileging Western values and practices, school counselors' partnerships with families, especially with poor families, focus on parent cooperation and discipline, rather than on mutuality and empowerment of parents," said Dr. Julia Green Bryan, professor at The Pennsylvania State University and Griffin's dissertation chair.
Griffin found that school-family-community partnerships are central aspects of Barbados school counseling and that data could help influence policy regarding counseling services for K-12 and university settings.
She obtained a Ph.D. in counselor education and supervision, with a dual title in comparative and international education, from The Pennsylvania State University. During her doctoral studies, she published a dissertation on "An Investigation of School Counseling Roles, Practices, Challenges, and Demands in Barbados: A Comparative Analysis of School Counseling Programs in Barbados."
Her dissertation was published in 2019. This year, Griffin won the Outstanding Dissertation of the Year Award from the American Educational Research Association's Family, School, Community Partnerships Special Interest Group. She said she was shocked when she read that she received the award from such a competitive submission pool. 
"(Griffin's) work provided an exemplary model as it identified important factors that influence school counseling in an international context," stated Dr. Kayon Morgan, award committee representative and assistant professor at the University of Hartford. "(Her) presentation of an ethnographic approach is nuanced and creative thereby offering significant findings for family, school, and community partnerships."
Putting Research into Practice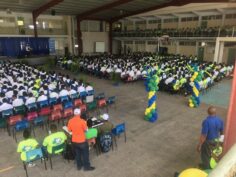 Griffin said her dissertation taught her the importance of networking and capacity building. "As school counselors, we might think we are just operating by ourselves and not realize that we can reach out to the next counselor or ask for support from partners around us." 
She teaches in Fresno State's Counselor Education and Rehabilitation department and uses findings from her dissertation in the classroom.
"Professor Griffin taught me to reach out, not only to the student but to work with community members, parents, grandparents, teachers or whoever may be in the student's life, and give them a voice," said Phongsavath.
He graduated in fall 2019 with a Master's degree in School Counseling and a Pupil Personnel Services credential. Now he is an intervention counselor at Redwood High School in Visalia and counsels 25 to 40 students a week. On a daily basis, he endeavors to help students make positive changes, whether with grades, behavior in the classroom or dealing with issues at home. 
When Griffin works with her students, she emphasizes that it's the connections that are most important. 
"You can know the theory, but once it meets practice it looks very different," said Griffin. "I want students to know that they can use data to advocate and to make sure they really listen to the clients and to the families as well. I want students to leave the school counseling program feeling like they can be agents of change in their communities."