The physical requirements of many agricultural jobs not only create strong bodies but often stronger leadership qualities, something that Fresno State agricultural business senior Amanda Skidmore of Atwater would attest to.
The 2021 Undergraduate Dean's Medalist for the Jordan College of Agricultural Sciences and Technology learned that at an early age through 4-H.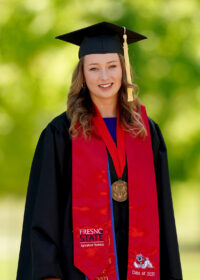 She began raising chickens when she was eight years old with her twin brother, Andrew, also an accomplished 2021 Fresno State graduate for the Lyles College of Engineering. At their first judging competition, they arrived and realized that other competitors were using much smaller birds that weighed only 1 or 2 pounds.
"It was a great, learning experience," Skidmore said. "As I held that 10-pound bird for 45 minutes, my little arms became really, really tired, and I remember wanting to give up. From starting out as baby chicks to becoming full grown chickens, I started to appreciate what our farmers do."
As she grew up, the family added goats, horses and dairy heifers that provided a special, bonding experience with their mother, Denise, a former Fresno State livestock judging team member and high school agricultural teacher who now works at the Hilmar Cheese Company.
In high school, the fraternal twins matriculated into Future Farmers of America (FFA) and became involved with public speaking, marketing and leadership. As seniors, they were elected state officers at the annual conference that was then held in Fresno, and were toasted by the Jordan College faculty and staff at a special ceremony on campus.
During the gap year between high school and college, Amanda Skidmore crisscrossed the state with fellow FFA state officers to learn about all aspects of the nation's leading agricultural economy from other students, faculty and industry leaders.
Since arriving at Fresno State, she has been equally active with a second undergraduate degree in marketing from the Craig School of Business and a combined 3.91 GPA.
Skidmore's busy schedule has included five internships and a full-time job that have included positions with the Agricultural Retailers Association in Washington D.C., California Cotton Ginners and Growers Association, London Properties, Ruiz Foods and Zenith Insurance.
She has equally enjoyed helping restart the National Agri-Marketing Association campus club, and has attended industry conferences and competed in marketing competitions around the country.
Her academic excellence has earned her a place in the Jordan College Honors Research Cohort. Working with agricultural business faculty, Dr. Todd Lone, they have worked with local growers, chefs and consumers to study the market potential for agretti.
The small succulent shrub grows well in warm, Mediterranean coastal regions and can be irrigated with salt water, which could make it a good option for Central Valley soils that have high salinity issues.
All of this experience lead her in a new direction this June with a full-time position in brand marketing with E. & J. Gallo.
"Thanks to a research project with our campus winery, I found out that I'm drawn to the wine industry," Skidmore said. "Wine is involved in so many special moments, whether around the dinner table or at special events like weddings. I admire Gallo's passion, sustainability and commitment to new products, so I'm excited to join their family and continue to be a part of the Central Valley industry."
When her name was called at the college's graduation ceremony on May 15 at Bulldog Stadium, she stood and waved to her family, the same ones that had helped her stand when she needed their assistance years before.
That memorable chapter came after spinal fusion surgery to repair a back injury that occurred when she was 12 years old. The injury was initially misdiagnosed for six months until an X-ray at Valley Children's Healthcare revealed a fracture in her L5 vertebrae.
A first surgery involved screws and a wire attached to her vertebrae and allowed her to eventually play volleyball and swim for two years until the pain became too unbearable as a high school junior. She committed to the spinal fusion surgery as a senior, but then delayed it a year to serve as a FFA state officer.
The subsequent surgery at Stanford Hospital in May 2017 involved six months of rehabilitation that overlapped with her first semester at Fresno State.
"When I started that fall I was starting to walk fairly well, but couldn't really carry anything, not even a notebook or pen," said Skidmore. "My brother and other family members, friends, and others on campus stepped in at a time when I needed them. We all deal with struggles at some point that aren't always visible when you see someone walk by, so I've been lucky to be at a place like Fresno State where there are so many people that care about you."
She has since returned the favor and volunteered locally through the Fresno Rescue Mission, Valley Children's,  and other local charities.
"The Central Valley community is incredible because it's tied together through service, and agriculture shares that value, too," said Skidmore. "Starting with my grandfather (Linton Wollen) who was also a Bulldog graduate, our campus has been such a wonderful place for our family members to grow and seek new challenges, and I will always be grateful to have called Fresno State home."