A performance by Chicana feminist art collective Más Rudas and several other events mark this week's observance of Hispanic Heritage Month (Sept. 15-Oct.13) at Fresno State.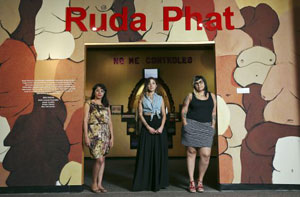 The San Antonio-based Más Rudas will present "Ruda Phat: Art, Feminism and Body Image" at 1 p.m. Wednesday, Sept. 24 in the Henry Madden Library, Room 2206.
The free, public event is presented by the Women's Studies Program, the Art and Design Department and Associated Students, Inc.
The Mas Rudas artists — Mari Hernandez, Kristin Gamez, Sarah Castillo and Ruth Buentello — will present their TEDxSanAntonio "Redefining Beauty" talk. The artists "challenge viewers to rethink their own perspectives on the female body and contend that societal norms cause women to internalize negative perceptions of their bodies."
Other events this week include:
The "Welcoming Diversity: A Prejudice Reduction Workshop," from 8:30 a.m.-4:30 p.m. Friday, Sept. 26 in the Vintage Room (near the Memorial Court Fountain), will be an interactive experience presented by the National Coalition Building Institute (NCBI).
A special session, "Diversity Training," from 1-3 p.m. at the Smittcamp Alumni House with Dr. James Manseau Sauceda, a national speaker on multicultural/intercultural communication issues. Manseau Sauceda, a third-generation Mexican-American and native of Los Angeles, is a communication studies professor at Long Beach State and director of its Multicultural Center.
Manseau Sauceda, a poet, will be reading for the "Chicano Poetry Performance," after the workshop from 5-6 p.m. Friday at the Alice Peters Auditorium in the Peters Business Building (5245 N. Backer Ave.). His creative writing projects include a play, "Magic Kit," that took a top prize in the National Chicano Literary Competition and poetry that has been translated into Spanish and featured in an anthology published in Mexico: "Nueva Poesia de Los Angeles."
"Latina@ LGBTQ: Healing Ourselves, Healing the Community" from 9 a.m.-2 p.m. Friday, Sept. 26, will feature Dr. Migdalia Reyes, professor of social work at San Jose State University, in the Henry Madden Library, Room 2206.
Manseau Sauceda's diversity training session and poetry reading are sponsored by the Fresno State Department of Communication and Associated Students, Inc.
For remaining Hispanic Heritage Month events, see the Fresno State Central Valley Cultural Heritage Institute calendar.
Related links: