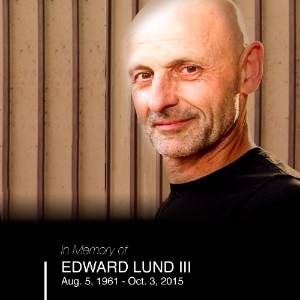 A celebration of life memorial service will be held for Fresno State arts curator Edward Lund III from 1-3 p.m. Saturday, Oct. 10, in the John Wright Theatre (Speech Arts building). Lund died Oct. 3 from injuries in a bicycle accident during the Levi's GranFondo charity race in Sonoma County.
President Joseph I. Castro has ordered Fresno State's national and state flags to be posted at half-staff on Saturday in memory of Lund, including the Rose Garden flags outside the Speech Arts building where the service will be held.
Following the memorial service, an exhibit will be unveiled to commemorate Lund's life, art and bicycles. The exhibit will be located in the Phebe Conley Gallery (Conley Art Building) and will run through Saturday, Oct 24.
In lieu of flowers, individuals are asked to make donations in honor of Lund. Checks can be addressed to the Fresno State Foundation, 2380 E. Keats Ave., M/S MB99, Fresno, CA 93740.
Original press release: http://bit.ly/FSN-EdwardLund