Lawrence Young Jr. dreamed his whole life of being a professional football player like his uncle and idol, Charle Young, a 13-year NFL veteran and Super Bowl winner who was named rookie of the year in 1973 as a tight end for the Philadelphia Eagles.
For Lawrence, attending Fresno State and trying to walk on to the football team was a large part of reaching that dream. But shortly after starting his freshman year in 2008, Young, or "Law" as he is called, said he found out he did not meet NCAA eligibility requirements, so walking on was not a possibility.
Depression set in and Young became academically disqualified. He left Fresno State knowing his only option would be to go to a community college and someday transfer back.
Eleven years later, on May 18, with several obstacles overcome along the way, Young, 29, celebrated earning his bachelor's degree at Fresno State. A criminology major, the irony that his nickname is Law is not lost on him.
With his football dream behind him, Young wanted to find purpose in his life and recalled his grandmother babysitting him when he was a child while his mom was at work. At the time, the O.J. Simpson trial played on her television every day. Young liked to watch Simpson's attorney, Johnny Cochran. It was the first time his interest in the criminal justice system was piqued.
He thought about his incarcerated relatives, the injustices he said he experienced personally as well as reported tensions between the police and African Americans, and he decided to learn more about the legal system.
"The only thing to make it better is to be part of the change," Young said.
Journey back to Fresno State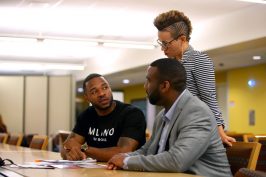 After Young was initially disqualified from Fresno State, he enrolled at a local junior college planning to play football. But he said an incident with an on-campus police officer led to him sustaining a knee injury and leaving that school, too.
A series of challenges, moving to different cities and attending different colleges over the years nearly caused Young to give up.
Instead, he enlisted in the Air Force Reserves in 2011, served as a crew chief and volunteered to do security forces. "I didn't know what I wanted to do after football and the military is honorable," Young said. He looked up to his grandfathers who were both military veterans.
While in the military, he became a father to daughter Navaya. "It was stressful to find childcare while working, and I knew I still wanted to further my education," Young said.
He thought about pursuing a career with the California Highway Patrol. "I took the test three times before passing," Young said. "While waiting to take the test for the third time, I decided to go back to school."
He enrolled at Clovis Community College. With a renewed focus on school, he received the Deans Medal of Distinction and was able to transfer back to his dream college — Fresno State.
Renee Cromer, academic coach for SupportNet at Fresno State, met Young at a Back on Track workshop for students who had been on academic probation or disqualified. "Lawrence realized that he could not do this alone for a second time," Cromer said.
With help from the SupportNet staff, Young was able to enroll his daughter in the Joyce Huggins Early Education Center at Fresno State in the Dual-Immersion Spanish preschool program. That allowed him to attend classes during the day. While in school, Young worked at Fresno High's afterschool program and weight room.
"When I met him, he had gone to his major adviser and was discouraged," said Jamaal Washington, a SupportNet adviser. "He would get ready to overcommit himself and we would remind him of his priorities and what could be put off until next semester.

"Seeing his success and seeing him graduate is something that motivates me. Not the situation that brought him here, but his accomplishments and a legacy he can leave behind."
Young said he is currently in the background check process for a career with the California Highway Patrol. "He wants to contribute to society and make the world a better place," said Dr. Jordan Pickering, assistant professor of criminology at Fresno State. "The CHP is a great career for him with a military background. He is very personable, which is needed in law enforcement."
If that does not work out, he will re-take the Air Force test to commission as an officer.
"I feel like people give up and quit because it gets hard or they are given false information," Young said. "I've been close to giving up several times."
The important thing is, he never has.