Primavera Leal Martinez and Anthony Mele were awarded the University's top academic honors at Fresno State's 108th Commencement Saturday, May 18, at the Save Mart Center.
Martinez and Mele were chosen from a group of nine Undergraduate Deans' Medalists and nine Deans' Graduate Medalists.
Martinez, of Sanger, was selected as the President's Medalist, the University's top honor for an undergraduate student. She earned a bachelor's in English from the College of Arts and Humanities in three years with a 3.91 GPA.
Mele, of Fresno, was selected as the University Graduate Medalist, Fresno State's top honor for a graduate student. He earned a master's in plant science from the Jordan College of Agricultural Sciences and Technology with a 4.0 GPA.
Primavera Leal Martinez, President's Medalist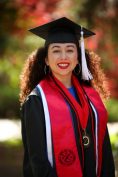 Martinez is a champion of debate, having received national recognition with the All-American Debater Award by the Cross-Examination Debate Association. She has also coached bilingual students in the Urban Debate Leagues.
Martinez served as vice president of external affairs for the Associated Students, Inc., was a student representative on the Student Success Summit committee, a student representative for the College of Arts and Humanities, editor in chief of La Voz de Aztlán and a volunteer for Camp Kesem, a free camp for children affected by a parent's cancer.
She has also advocated for DACA students and migrant workers. Martinez plans to pursue a master's degree in communication and coach the Fresno State Barking Bulldogs debate team before entering law school. Her goal is to become an immigration lawyer to advocate for those forgotten by the immigration system and who are most in need.
Anthony Mele, University Graduate Medalist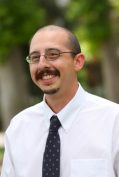 Mele previously earned his bachelor's degree in history at the University of California, Santa Cruz in 2015. During the recent California drought, his concerns about the future of water grew and carved a path back home to Fresno where he could learn to develop innovation in irrigation and secure a sustainable future for Valley farmers.
Mele took prerequisite classes at community colleges in the Central Valley to meet the requirement for the plant science graduate program. Once accepted, he wasted no time. He worked as a research assistant in the Center for Irrigation Technology, was a member of the Tri-Ag Societies and volunteered during the FFA Field Days, the Water-Wise Plant Exchange and with the San Joaquin River Conservancy.
Mele presented his research on water efficiency in drip irrigated sugar beets at numerous competitions and recently placed first in two national contests. He hopes to continue his irrigation research while providing outreach and consulting for Valley farmers.