After COVID-19 caused last year's Fresno State commencement ceremonies to be canceled, 2020 and 2021 graduates and their families will be able to enjoy in-person celebrations at Bulldog Stadium this year. It is the first time commencement ceremonies will be held at the football stadium since 2003. After the Save Mart Center was built, it became the new home for commencement in 2004.
Fresno County's improved ranking in the state's COVID-19 tier system allows Fresno State to offer smaller-scale, in-person commencement ceremonies May 14, 15 and 16 outdoors for the two classes of graduates.
HONORARY KEYNOTE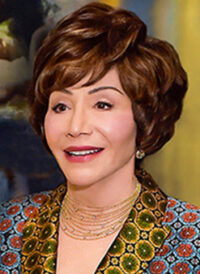 Those in attendance will hear a special message to students from keynote speaker Dr. Lynda Resnick, entrepreneur, philanthropist and co-owner of The Wonderful Company. She will deliver her pre-recorded keynote address at all six of the commencement ceremonies.
Dr. Lynda Resnick is vice-chairman and co-owner of The Wonderful Company, and her husband, Dr. Stewart Resnick serves as chairman. The Wonderful Company is a privately held, Los Angeles-based global enterprise that produces a diverse range of high-quality, healthy products, including such iconic brands as Wonderful Pistachios, Wonderful Halos, Wonderful Seedless Lemons, POM Wonderful, FIJI Water, JUSTIN and Landmark wines and Teleflora.
Throughout her career, as her commercial success has grown, so has her dedication to philanthropy. She personally guides The Wonderful Company's innovative philanthropic endeavors, the heart of which focus on wide-ranging efforts to enhance the lives of people in the communities where its employees live and work.
Dr. Resnick understands that a thriving society is built on attacking the cycle of poverty by addressing the social determinants of health. Because of this, the company invests tens of millions of dollars each year into its paradigm-changing, place-based approach focused on education, health and wellness, and community building in California's Central Valley, where the majority of its products are grown and where the majority of its workforce resides, as well as throughout the island nation of Fiji.
The Resnicks made a $10 million investment in 2019 toward the Lynda and Stewart Resnick Student Union, currently under construction at Fresno State, the largest-ever philanthropic gift made to a student-life initiative at the University. A portion of this investment will be used to create The Wonderful Scholar Center within the new student union, a dedicated space where more than 200 Wonderful Scholars scholarship recipients attending Fresno State will receive tutoring and counseling. The Resnick Student Union is expected to be completed in 2022.
GRADUATION SEASON
About 6,201 class of 2021 graduates could be eligible for degree conferral, pending final certification of spring degrees. 
There will be six separate ceremonies, each with up to 1,400 graduates. The University will follow state and local public health guidelines. Here is the schedule of ceremonies:
Friday, May 14:
9 a.m. — Kremen School of Education and Human Development

7 p.m. — College of Health and Human Services
Saturday, May 15:
9 a.m. — College of Social Sciences

7 p.m. — Jordan College of Agricultural Sciences and Technology and the College of Arts and Humanities
Sunday, May 16:
9 a.m. — College of Science and Mathematics and the Lyles College of Engineering

7 p.m. — Craig School of Business

   
Graduates who preregistered will be recognized individually and asked to stand when their name is read over the sound system and a photograph is shown on the stadium screen. Graduates who preregistered but will not attend ceremonies in person will also have their names and photos included.
The ceremonies will be livestreamed on the Fresno State commencement page so students and families who are unable or choose not to attend an in-person ceremony, and the public, can watch online.
Fresno State Interim President Saúl Jiménez-Sandoval will preside over the ceremonies. California State University Chancellor Joseph I. Castro will attend each ceremony to confer degrees. Castro, who served as Fresno State's president for seven years, moved to Long Beach in January to head the 23-campus CSU system. 
Fresno State's graduating class of 2021 has raised $17,072.79 from 698 student donors, directly benefiting student and campus programs, including the Amendola Family Student Cupboard, student scholarships and the Victor E. Bulldog Fund. These student donors will be recognized at commencement. 
Fresno State will also honor 11 faculty members with Provost's Awards, which recognize outstanding teaching, research and service. Dr. Kenneth Froelich, a professor of music theory and composition in the College of Arts and Humanities, will receive the top award, the 2021 Provost's Award for Excellence in Teaching.
In April, Fresno State announced the students selected as Undergraduate Deans' Medalists and Graduate Deans' Medalists, representing the University's eight schools and colleges along with the Division of Student Affairs and Enrollment Management.
From those 18, two students will be selected as the University's top academic honorees, the President's Medalist and the University Graduate Medalist. Those recipients will be announced on Wednesday, May 12, and will be recognized at the commencement ceremony for their respective college or school.
CLASS OF 2021 BY THE NUMBERS
Fresno State's 2021 class consists of:
5,188

 students who received a degree in summer or fall 2020 or are pending final review in spring 2021 for their baccalaureate degrees.

1,013

 who received a degree in summer or fall 2020 or are pending final review in spring 2021 for their post-baccalaureate degrees.
The doctoral cohorts and candidate breakdowns are:
Summa cum laude (with highest praise) distinction for a GPA of 3.9 to 4.0 was earned by 436 students or 7%, with 72 of those earning straight A's (17%).
In 2015, the California State University system launched Graduation Initiative 2025, an ambitious plan to increase graduation rates, eliminate equity gaps in degree completion and meet the future workforce needs of California. Fresno State students are making positive progress toward that goal.
The four-year graduation rate for first-time freshmen who began in fall 2016 is projected to be 21.4%, which will be 3.6% higher than the cohort that started in 2015. Looking at the two-year graduation rate for undergraduate transfers who entered Fresno State in fall 2018, the result is 40.6%, which is 8.9% higher than last year.
University officials say about 59.3% of the graduating students in the class of 2021 are first-generation students whose parents didn't receive bachelor's degrees, while many others continue a proud family legacy of being a second- or third-generation Bulldog.
By sheer numbers of the 2021 graduating class, the College of Health and Human Services is the largest with 1,037 graduates, followed by Kremen School of Education and Human Development (959), Craig School of Business (950), College of Social Sciences (923) and College of Science and Mathematics (909). The following areas are the top five majors of students in the 2021 graduating class:
Liberal studies

(530)

.
Psychology

(500)

.
Criminology

(456)

.
Kinesiology

(294)

.
Accountancy

(223)

.
For the commencement ceremonies, graduates will be seated on Jim Sweeney Field at Bulldog Stadium. Graduates who registered were each issued a maximum of four assigned tickets for their guests. All guests will be assigned to a specific seating location (pods) in the Bulldog Stadium stands. These pods will be socially distanced in accordance with the latest CDC and state public health guidelines. Graduates, attendees, employees, volunteers and members of the media must wear facial coverings at all times.
A commencement website has the latest communications and updates.
RELA