Fresno State and Granville Homes will celebrate the grand opening of the Graduate Art Studios with a press conference and ribbon cutting at 10 a.m. Thursday, May 7, at the M Street Arts Complex (1419 M Street). Tours will be available immediately following.
The facility — Fresno State's first satellite campus — is a creative collaboration between the College of Arts and Humanities, Granville and downtown Fresno.
The Graduate Art Studios are part of the M Street Arts Complex, which provides a safe, clean and professional environment where artists can create and where all Fresnans can discover and support local art.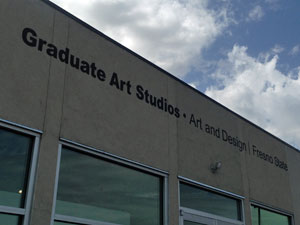 The project will be housed in the 6,000-square-foot building on the corner of M Street and Tuolumne Street, and comprises 15 private working studios for Fresno State graduate art students, as well as galleries and a conference room. Students will work side by side with faculty and professional artists, and the studios will offer educational opportunities and professional development.
"Having an individual space allows me to truly work productively on my own time and is an ideal breeding ground for creativity," said Emily Kenyon, a graduate student studying drawing and painting in the Art and Design Department. "These studios are giving me that space to work alone, and yet to simultaneously have my peers around me if I ever want to pop in to see what they're doing or seek help, ideas or criticism from them. It gives me the best of both worlds."
The studio spaces will be used to recruit top students, both internationally and nationally, and the gallery will provide space for graduate project exhibitions, visiting artists and juried shows."The M Street Arts Complex project demonstrates the College of Arts and Humanities' commitment to the arts, education and the community," said Interim Dean José A. Díaz. "We are so excited to have this satellite campus in downtown Fresno, an area that is already so rich in art, culture and history. We look forward to the great work our students and faculty will contribute to it."
Later in the evening, the College of Arts and Humanities will host a reception that is open to the public at the complex from 5-8 p.m. to coincide with ArtHop.
For more information, contact Suzanne Crosina-Sahm at 559.392.1685 or scrosinasahm@csufresno.edu.
Related links: