Sharing Fresno State's stories is a way to connect with alumni, friends, students and prospective students and other community members. On a campus of more than 24,000 students and thousands more faculty and staff, narrowing it down to the top 19 stories of 2019 is challenging. Here's a glimpse, in no particular order, at some of the best news, most touching stories and most well-done storytelling from the University over the past year.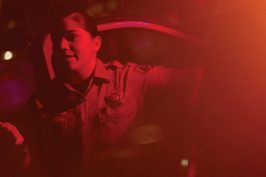 Anamarie Serrano remembers her first time in a patrol car. She was 6 years old and crying. She sat in the front seat next to her brother as an officer distracted the children while other officers were inside their home arresting their father. Seventeen years later, Serrano has been in a patrol car hundreds of times. Now, she sits behind the wheel, firearm on her hip and badge adorning the shirt of her uniform. She doesn't wear her emotions on her sleeve — she wears the emblem of the Fresno County Sheriff's Office. Read more. See video.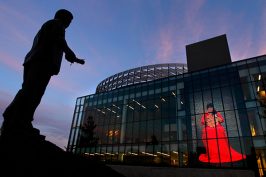 When the sun sets west of the Henry Madden Library and the glare from the hot Fresno sun disappears, the lady in red glows. Have you seen her? Master basket weaver Lois Conner looms over the Peace Garden at Fresno State, projected onto a 43-foot-high media screen on the north side of the Madden Library. With nimble hands, Conner demonstrates the dedication, patience and time it takes to weave a traditional gambling basket, a process that typically takes about a year to complete. Read more.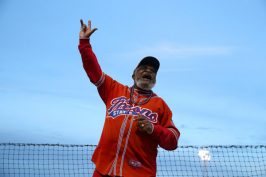 Ballgames with Inman
"It's a great day to be a Bulldog!" The phrase is heard often nowadays around the Fresno State campus, but what many may not realize is the phrase gained its popularity from one of the biggest standouts in Fresno State baseball history — Inman Perkins. Inman never played an inning of baseball for the Bulldogs, but he's rarely missed one from the stands. And his cheers certainly make a lasting impression with anyone who's ever been to a Fresno State baseball game. Read more. See video.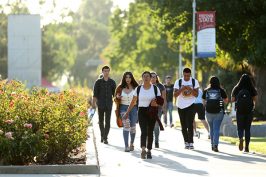 No. 3 Nationally in Social Mobility Index
Fresno State is among the best nationwide at educating and preparing low-income and first-generation students to earn their degrees and find financial success, according to the 2019 Social Mobility Index. This latest ranking continues a streak of national recognition for Fresno State this year. The University scored third-highest among public national universities for graduation-rate performance in U.S. News and World Report's 2020 Best College rankings, was No. 24 in Washington Monthly's top 25 and ranked No. 35 in Money Magazine's 50 Best Public Colleges. Read more.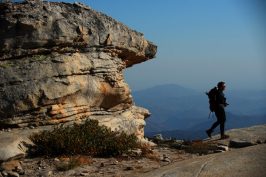 A Life Recovered
In 2012, William Schmahl woke up in a hospital bed with no recollection of who he was. At 23 years old, he looked his parents in the eye and asked, "Who are you?" Schmahl said, "I had a brain injury, a pretty severe one. The loss of identity was terrifying." He was hit by a car while driving a motorcycle. The car sent him swerving into a telephone pole. All of the bones in his upper right torso were broken. All of his organs were damaged. Read more. See video.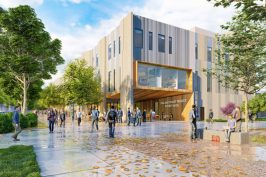 Shaping Student Life
After a historic vote last year by Fresno State students to build a new student union, philanthropists and entrepreneurs Lynda and Stewart Resnick, owners of The Wonderful Company, made a $10 million investment to make this new facility a reality. The generous commitment, the largest ever made to a student-life initiative at Fresno State, will transform the University by supporting a central hub for students on campus, one that will accommodate the growing student body for years to come. Read more.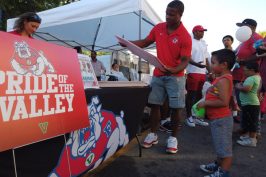 Pride of the Valley
Fresno State athletics is often called the "front porch" of the University, providing family entertainment at the highest level of college athletics and introducing hundreds of thousands of people, from generation to generation, to the University over the years. The Pride of the Valley campaign is intended to capture and enhance what makes the Valley special and the role Fresno State plays in representing the region, alumni and fans. Read more. See video.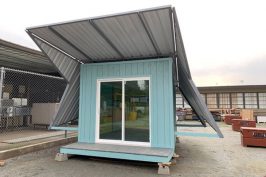 Construction Management Students Build Shelter for Poverello House
About a year after a team of Fresno State construction management students was tasked with designing and building a temporary home to help raise awareness of homelessness in the Valley, their 100-square-foot prototype was presented to the Poverello House for use in the community. "We are so grateful that so many different members of our community came together to design and build a structure to shelter our homeless population," said Cruz Avila, CEO of Poverello House. Read more.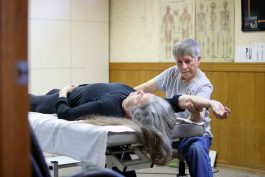 An Honorable Discharge
A proud smile forms on the face of Helen Grace James as she reads a letter from a Florida teen. The letter begins, "Dear Ms. James, You are an inspiration…" At 92, James has lived a full and colorful life, combined with a successful career as a physical therapist, a profession she still practices to this day. However, it is her life before physical therapy that recently garnered her the admiration of individuals of all ages and backgrounds from all over the world. Read more.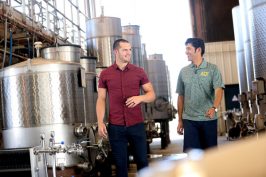 One year ago, Juan "J.J." Lino's life changed forever. The youngest of seven children and the son of a farmworker mother, Lino became the first in his family to pursue a college degree. The path became possible thanks to Derek and Heather Carr. Lino is the first-ever recipient of the Derek and Heather Carr Scholarship. For a student who needed loans to pursue higher education, the award is especially meaningful. "When I found out, I just kind of broke down," Lino said. "I'm just like, 'There's no way this is actually real.'"